$50 REWARD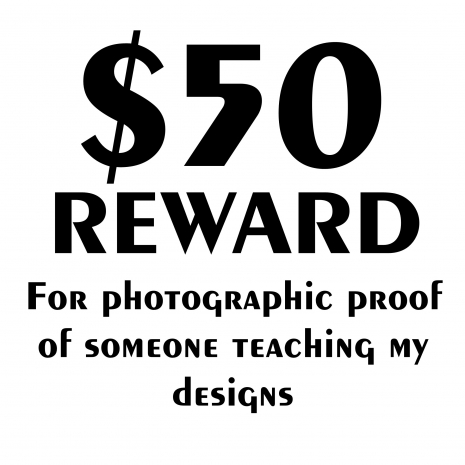 As I get many requests I'm putting this in a few places on my site and it is in my tutorials. I do not allow teaching of my designs due to the impossible job of monitoring who is teaching with permission and who is teaching without it. I have been legally advised to not allow any teaching so there is no grey area that would impede legal action on those violating my copyright.
As people are not abiding my wishes due to their laziness and greed I am offering a $50 reward for photographic evidence of people teaching my designs. If you provide me with photographic evidence to stop this unethical practice I will issue you a $50 gift certificate for my tutorials.
I took much time to learn how to make, edit and produce video classes. Since 2014 I have been doing video classes with my tutorials eliminating the need for ANYONE to teach them. It takes a lot of time to write, illustrate and film a tutorial, I put that effort in so I can make a living and I suggest anyone wanting to make a living from beading do the same. Don't be a parasite.